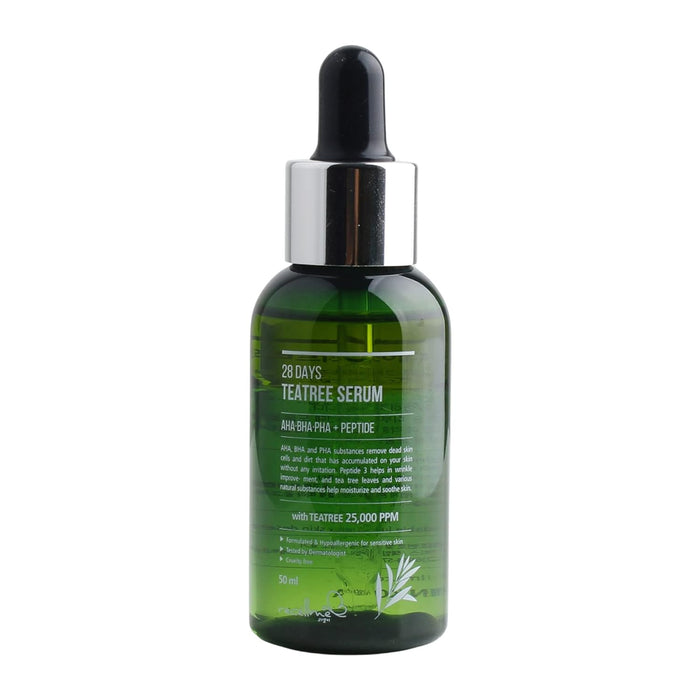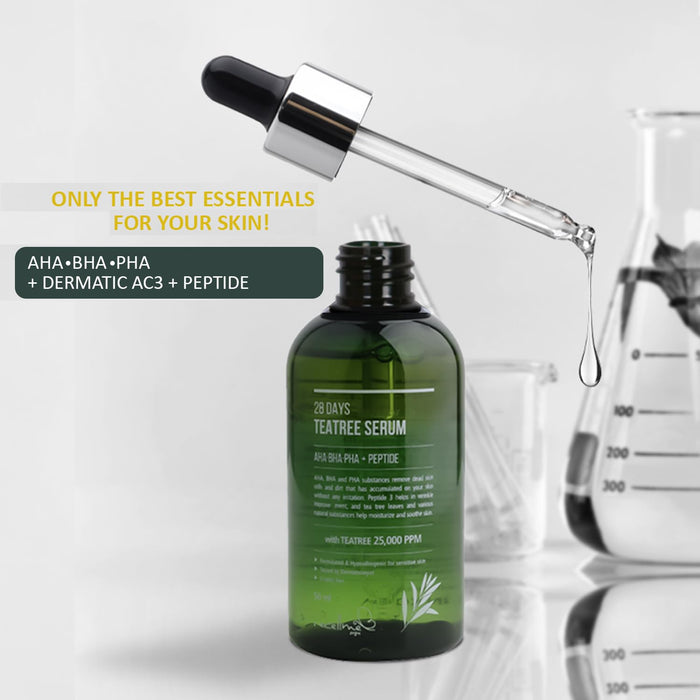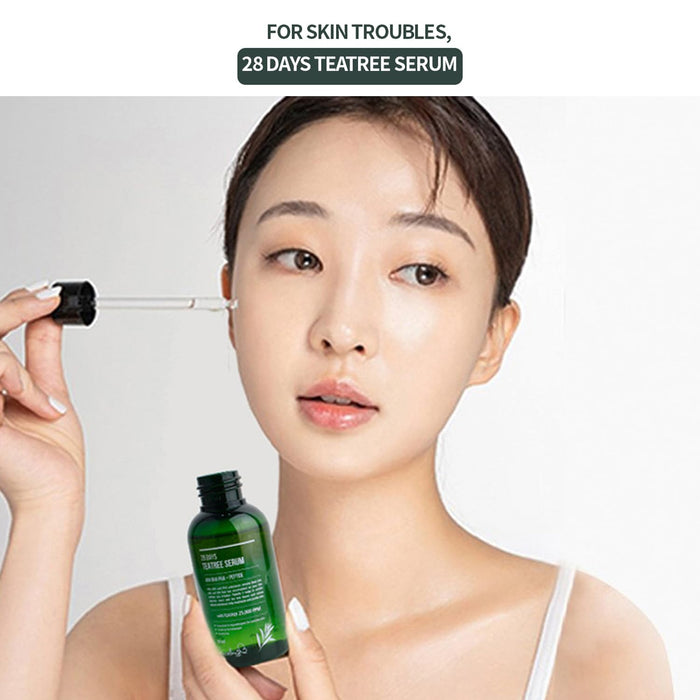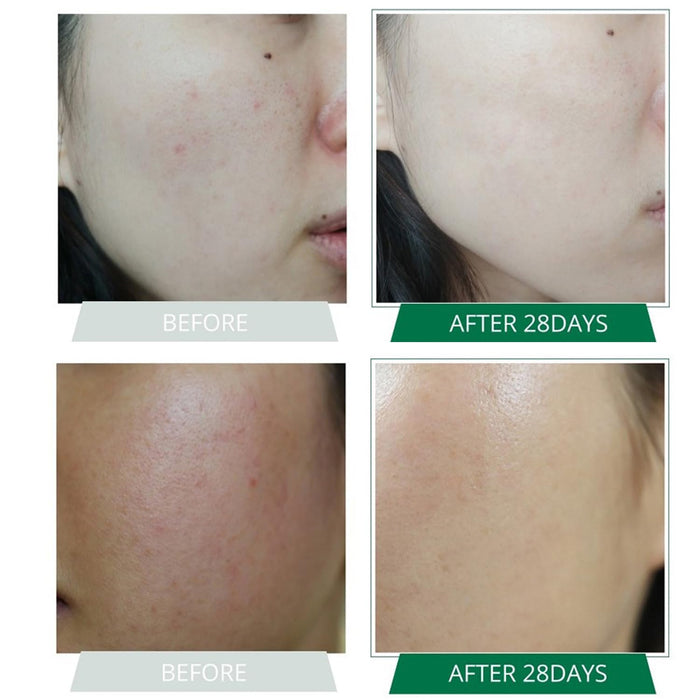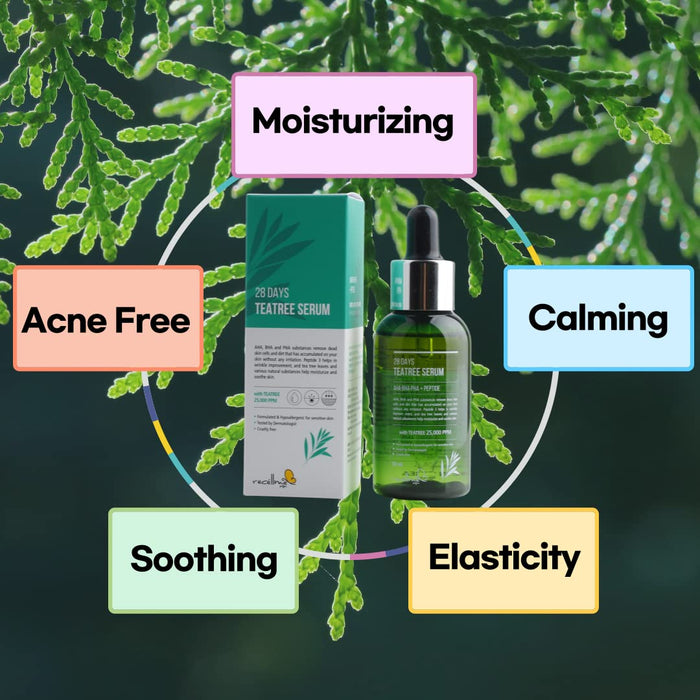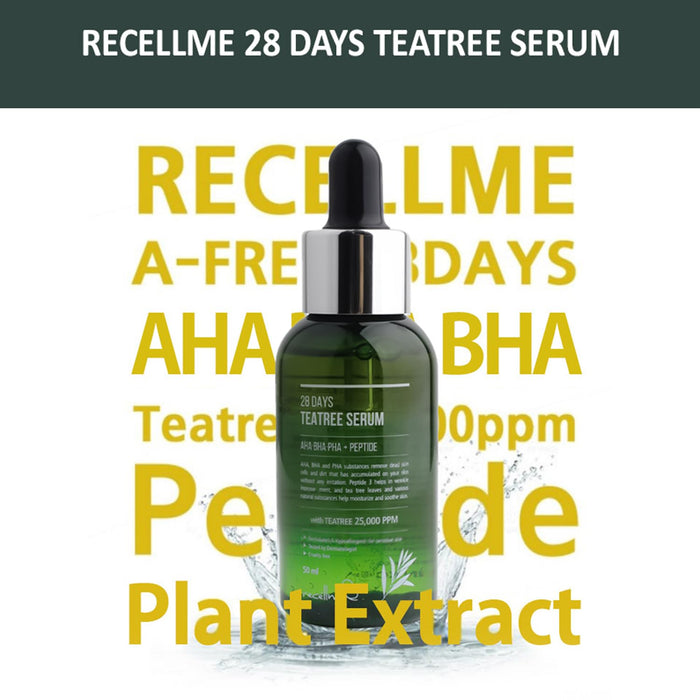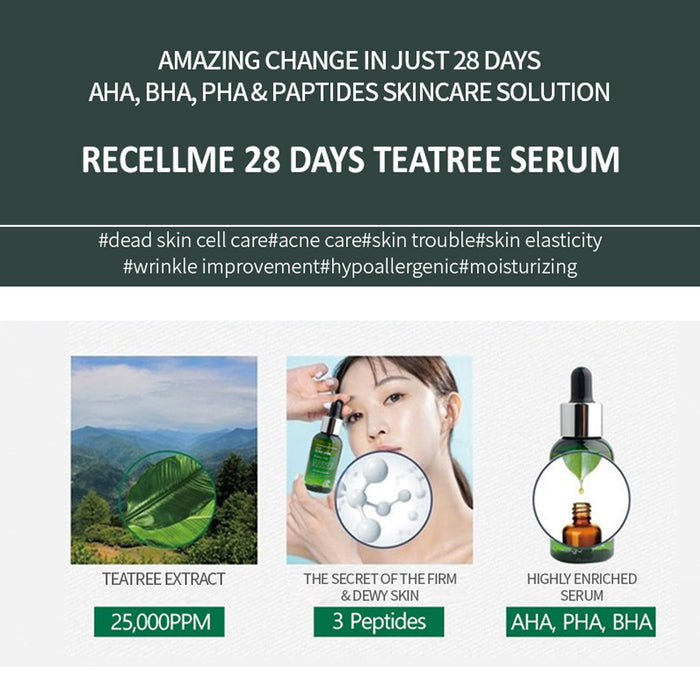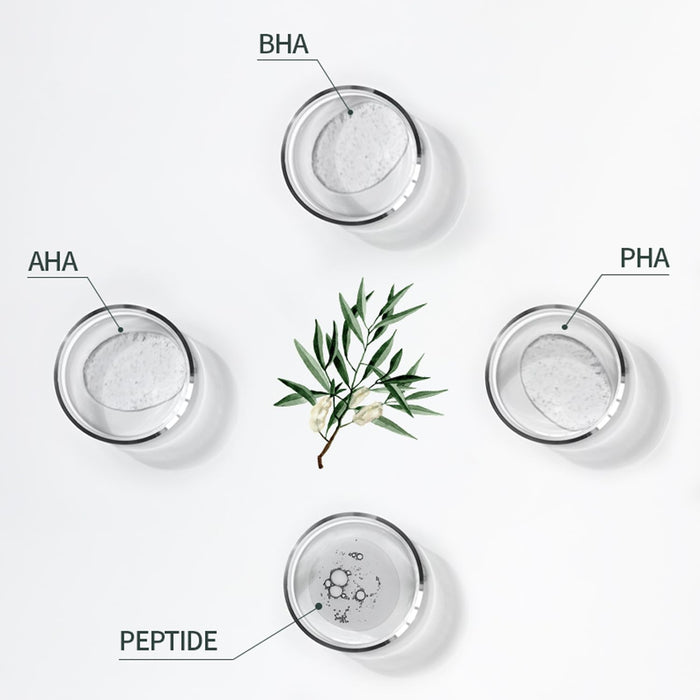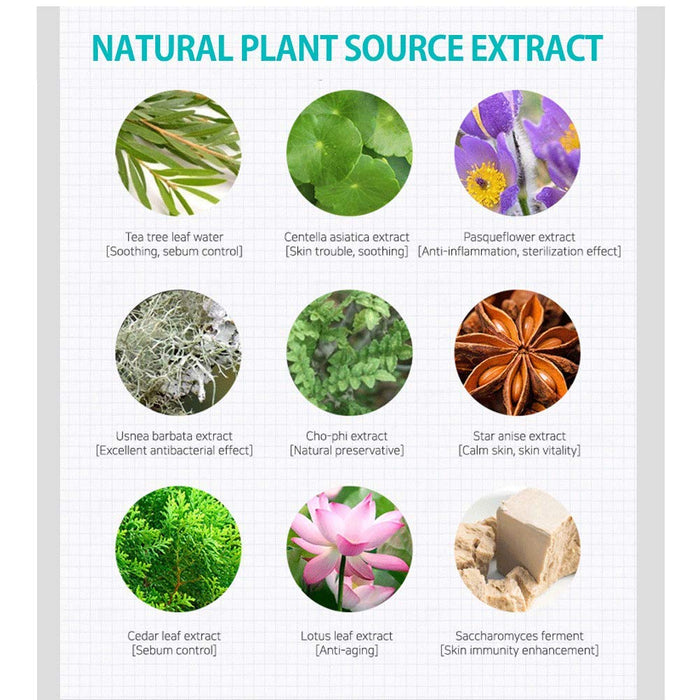 Recellme 28 Days Face Serum 50ml 1.7oz
Recellme 28 Days Face Serum 50ml 1.7oz for Skin Elasticity Moisturizing Soothing Calming and Low acid PH 6.0 Balanced for Sensitive Skin with Natural Plant Extracts and AHA BHA PHA Peptide Complex
Skin Type

Sensitive
How to Use
• It's a two-layered serum composed of oil and essence. Shake it well before use
• Gently shake the serum and apply it evenly along with the skin's texture
Product Benefits
Cleansing,Moisturizing,Soothing

Precautions 
• Do not use on areas with scars
• Keep out of reach of children
• Store away from direct sunlight
• Consult to dermatologist if you have red sopts, swelling
All Ingredient List
Tea tree leaf water, Tea tree leaf oil, Citric acid, Glycolic acid, Sodium hyaluronate, Niacinamide, Adenosine, Centella asiatica extract, ...
About this item
Skin Elasticity with Peptide complex Ingredients ; 28Days Teetree Serum contains 3 kinds of peptides, giving skin elasticity and helping to improve wrinkles. Peptide is a compound that is formed by combining two or more amino acids. Several peptides bind to each other to form a protein molecule. It has a small molecular structure that can easily penetrate into the skin and is known to help synthesize collagen and elastin. Serum is not sticky or dull and can be used cleanly

Skin Moisturizing Soothing Calming with Natural Plant Source Extracts and AHA, BHA, PHA, Dermatic AC3, Tea tree 25,000ppm ; It contains patented DERMATIC AC3 to help regulate sebum and soothe skin. This Face Toner contains AHA, BHA and PHA to remove sebum and dead skin cells without irritation to soften skin texture. Serum contains a rich amount of tea tree extract 25,000ppm to enhance the skin soothing effect and providing a fresh feeling with a refreshing fragrance

Low Acid PH6.0 for Sensitive skin and helping the balance of skin PH ; It is made to be slightly acidic, which is closest to the skin's natural state Alkaline cleanser (ph8~9) is used for cleansing, so you should keep oil and moisture in balance by using a slightly acidic toner as soon as possible after cleansing. Tea tree Serum is made with a slightly acidic level closest to that of your skin, helping to balance your skin after cleansing

Large 50ml Serum provides both effectiveness and satisfaction with an affordable price Good Bye Pimples and Safe for all Ages ; This gentle formulation is a great solution for those with sensitive skin, because the natural ingredients work best to nourish and gently improve pimples, skin troubles, blemish prone skin It works great for women, men & all skin types including normal, dry, oily or combination. Apply to a cotton round and swipe across cleansed skin, avoiding the eye area

Manufacture at ISO Certificate Factory Our Facial Serum was created considering the skin turnover cycle 28Days A-free Serum has been developed after about 20 tests conducted by the company's affiliated research institute, which has ISO certification and excellent cosmetics manufacturing and quality control standard automation manufacturing facilities. It has been manufactured safely using meticulous quality control through a research institute and aseptic room.
Production Information
 • Product Name : 28 Days TEATREE TONER
• Volume : 100ml / 3.4 OZ
• EXP Date, All Ingredients, Cautions : Marked on the Packaging Box
• Origin : Made in Korea